How to get to San Pedro de Atacama?
Learn here the easiest ways to get to San Pedro de Atacama. Perhaps the most common way to get to San Pedro de Atacama is from Santiago to the city of Calama and then into San Pedro.
Air Transportation
From Santiago de Chile to Calama Airport
Traveling by plane the 1,670 kilometers that separate Santiago from Calama, the closest city to San Pedro de Atacama, becomes an attractive transportation option in terms of time and costs if compared to buses and rented cars for the same journey.
From Monday to Friday, LATAM Airlines and Sky Airlines offer over 15 daily flights of less than two hours. For the weekend, the frequency is reduced to 4 and 1. There are also direct connections with cities like La Serena and Antofagasta. As a reference, a flight with a stopover to the latter city can take almost 3 hours.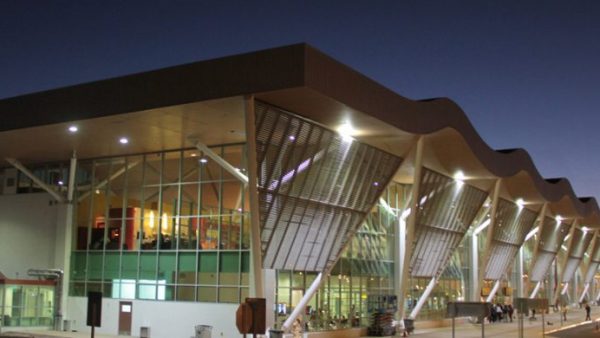 El Loa International Airport
El Loa Airport serves the desert area of the II Region of Antofagasta. It operates mainly with domestic flights and
From the airport to San Pedro de Atacama
From El Loa airport in Calama, several alternatives in transportation are available to cover the 100 kilometers that separate you from your lodging in San Pedro de Atacama (one hour and a half of trip). The most convenient way is by hiring the Transfer service with the official companies operating at the airport.
Finally, consider the bus if you are looking for the most economical alternative.
To take a bus, go from the airport to the center of the city of Calama and choose the company of your preference, always considering a wait of at least one hour to start the trip.
Transfer from Calama Airport to San Pedro de Atacama
Regarding the transfer service to San Pedro de Atacama from the airport, the value per person is $12,000 per stretch ($20,000 round trip), which may include an additional cost for bicycles, wheelchairs and additional luggage.
For greater safety and comfort, we recommend you reserve your place in advance by clicking here: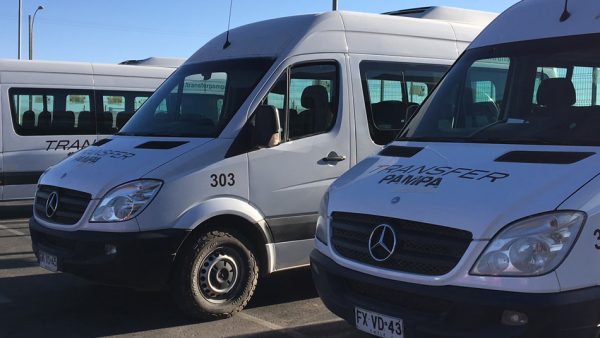 Transfer: Calama Airport – San Pedro
Ground Transportation
From Santiago de Chile to Calama
By bus or car, a direct trip to San Pedro de Atacama can take 24 hours, which is approximately the time it takes to travel the 1680 kilometers that separate the capital from this town.
By Car
If your choice of transport is the car, from Santiago head north on the Pan-American Highway 5 north to the fork in the hill La Isla, in the town of Baquedano (Antofagasta), where you must take Highway 25 towards Calama.
By Bus
If your choice of transportation is the bus, we recommend you prefer the company Tur Bus , since it is the only company that makes a direct trip from Santiago and other cities in Chile to the town of San Pedro de Atacama. Its cheapest ticket (semi-bed bus) has an approximate value of $31,200 (August, 2016).
In case you prefer another bus line, the transport will only go to the city of Calama, from where you must take another local bus to get to the town in a 100 kilometer trip.
Bus Terminals in Santiago
Los Héroes Terminal: Tucapel Jiménez and Alameda, Los Héroes subway station
San Borja Terminal (ex North Terminal): San Borja and Alameda, metro station Estación Central.
Buses from Santiago to Calama
From Calama to San Pedro de Atacama
By Car
Finally, from that city prefer Highway 23 to get to San Pedro de Atacama.
Rental Car
The good condition of the roads also makes it a good option to rent cars to go and move around within San Pedro de Atacama and its tourist attractions. If you choose this alternative, a vehicle with good traction should be enough to transport you without problems (remember to take highway number 23).
By Bus
Buses from Calama to San Pedro de Atacama
International
From Argentina
To get to San Pedro de Atacama, we recommend using the transport services offered by Pullman Bus and Gemini lines that have departures three times a week from the Argentine cities of Salta, San Salvador de Jujuy and the villages of Purmamarca and Susques.
The travel time considered for this section is 10 hours, without considering the delay due to customs procedures that must be carried out at Jama border crossing that links the province of Jujuy with the II Region of Antofagasta.
Upon arrival in Calama, take one of the local buses that will take you to San Pedro de Atacama in approximately one and a half hours.
From Bolivia
Reach the Chilean border crossing of Ollagüe (Parque Eduardo Abaroa) in the bus services offered by Bolivian companies such as Centenario and 11 de Julio. From Ollagüe, connect with another bus that goes to the city of Calama like those offered by Frontera del Norte and Atacama 2000.
From the Bolivian city of Uyuni, famous for its salt flat with the same name, it is also possible to reach San Pedro de Atacama through the border crossing Hito Cajón, which is 50 kilometers away from the Chilean town.